Family Service on Sunday at 4pm
Updated 5th January 2021
Thankfully, we are allowed to leave our homes to attend a place of worship to take part in communal worship. Here at St John's we do exactly that on Sundays at 4pm. Come as a family bubble and sit around a table together, safely distanced from other families. We have all the necessary safety precautions in place so you can feel confident to attend. We need to know who is coming though so please, if you're coming for the first time, or you would like to join in over Zoom, please email Kim on families@stjohnssouthbourne.com so you can receive the resource pack in the week prior to the service and to receive an invitation to our ChurchMums / ChurchDads WhatsApp groups.  Our family service on Zoom currently has approximately 50 participants and so it is lively, a bit silly in places but also worshipful with space for families to reflect and pray together.  Come and join in.
The Alpha Course
Click here to find out what The Alpha Course is all about.
Sign up to Daytime Alpha – Tuesdays 10:30am
Sign up to Alpha in Southbourne – Tuesdays 8pm
Southbourne Rocks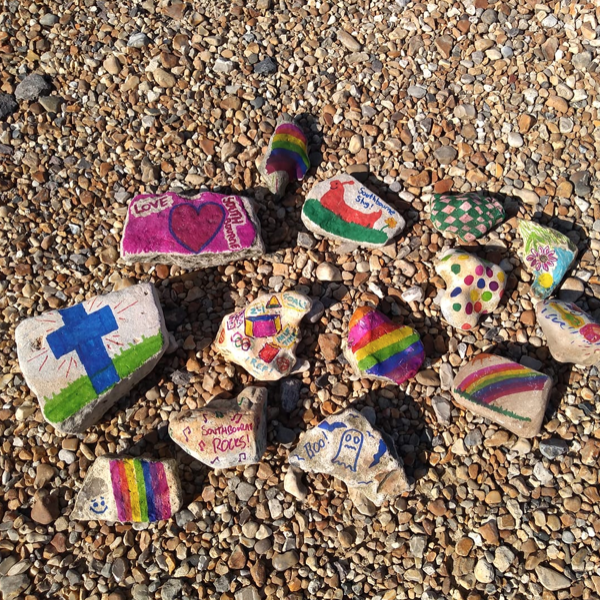 If you are out around the village, be on the lookout for painted rocks with pictures, messages and rainbows on them! Take a pic of yourself with the rock then share it on the FaceBook page. We suggest not touching the rock to limit the spread of COVID-19. There is a Thorney Rocks too, for people living on Island. Don't forget to wash your hands when you get home.