Hey St Johns Family!
What a joy it is to still be in contact with all of you after having been raised in this church as a child. Thank you for  your continued support for me and my family. We are excited to share where we are and what we're busy with. 
Where are we?  
We are the Adams family (Callum, Rianne, Elissia (6), Emmelyn (4) & Noah (1,5)) and  we live in the city of Antwerp in Belgium. We seek to bring the light of Christ to the  country of Belgium. Belgium is renowned for its tough spiritual ground and  challenges. For years it's been known as a missionary's graveyard. Spiritually the  country was founded with a huge influence by the freemasons. Belgium is a small  country of 11 million people but only an average 2.4% identify as Christian. There  are many who call themselves Catholics, but a vast majority to do not attend  church/mass. It is also a country extremely divided. There are three different  national languages. Dutch, French and German. Each has a region with its own  parliament and then one bigger country parliament. It has the record for the most  days without a functioning government.  
Our Local context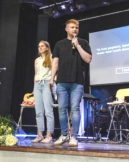 Antwerp is the main city of the Dutch speaking region. Home to 500,000 people. We  live in the southern region of the city. Right on the border of three different local boroughs of the city. Kiel one of  them and this borough is one of the most challenging neighbourhoods. Filled with social housing and a prominent  drug trade. We've had 3 grenades go off in the neighbourhood this year alone, all connected to the world of drugs  and gangs. It also has a huge Muslim population. We have the biggest mosque in western Antwerp 500m from our  apartment. There is also a new Muslims outreach centre opposite us, trying to actively convert people to Islam.  Callum has been approached a few times being asked questions about converting to Islam. The community is filled  with mainly Turkish and Moroccans but there are many more nationalities. We're in  contact with people from Iran, Iraq, Pakistan, Ethiopia, Poland, Kosovo, Lebanon and  many more. Our main focus has always been creating change through the local  church. As the new wine network has always said "The local church is the hope for the  world". We were led by the Lord to a wonderful international church called  Lighthouse Fellowship in 2016 when we came to Belgium and have had the pleasure  of getting more involved as the years have gone by, and in June 2023 being honoured  to take the baton to lead the church into the next season, as Lead pastors.  Churches in Belgium are treated as non-profit businesses. All salaries have an extra  50% cost for social security contributions. But the employer pays it instead of the  employee. This is fine for regular jobs, but for a church it means if a pastor earns a  base salary of 10k a year we still need 5k in social security on top. Which makes it a  real challenge to employ people for the church, which in turn limits people in what  time they can give for ministry. As far as I am aware I'm one of the few pastors in the whole denomination who  doesn't get a salary from the government and who works full time for the church. (Catholic priests get a salary from  the government, also many older churches who applied when the system was different. The salaries come with  many rules from the government, it takes at least 15 years to apply for it and there are certain things you are not  allowed to say). Callum is the only one in our church who gets paid by the church and this is on the minimum wage  and for only 20 hours a week. This is only made possible because of your consistent and wonderful financial and  spiritual support. 
What are we busy with?
We really live to see change that only Jesus can bring in our city and especially our neighbourhood. This begins with  pouring ourselves into the local church. One thing we are seeing is that there is a lack of leadership among (Belgian) churches. Of most churches we know, almost all leadership roles are filled by non-Belgians. Belgians seem to have a  hard time to take up responsibility. It has a very cultural reason being that for them there needs to be more than a  
95% chance of success for them wanting to do something. This means we are in a place with lots to be done but very little quality leadership. So, our first goal is to begin investing into leadership. To create a stable wider foundation of leaders to build on. Not only to benefit our church but every church here in the nation. Just the week of writing this
we have had 3 seminary students from Callum's old seminary come to visit and are interested in joining us as a  church to learn and grow. Also, we are in connection with 3 local Belgian churches where we get to speak into the  local leadership and mentor them. Also now have a few people voluntarily asking to do internships with us. We  already have one 18-year-old fresh out of secondary school taking a gap  year to work with Callum one day a week in the office and serves on  Sundays and does 1 day a week in the church café. It feels very odd to be in  this place only aged 28/29.  
Secondly, we are busy trying to create unity of the churches in the city.  There are over 180 protestant churches in Antwerp from all different  backgrounds and denominations. We are in connection with a fair few  looking to joint worship nights and projects and youth conferences. Every 6  weeks 6-10 leaders of the international churches meet for brunch to build  unity and friendship between the leaders and to talk about issue we face.  Thirdly, we have it on our heart to build a community centre in our  neighbourhood with the goal for it to be a place of outreach. We hope to make it a place where we have a café, with  an indoor play area at a cheap cost to draw people, but also have a foodbank there with programs offered from  there to help people out of poverty with financial classes. Then to do Alpha and another program which is like Alpha  but especially designed for those with a Muslims background with questions about our faith. And then, like St Johns  has done, we would like to offer mid-week kids and youth ministry. This we hope to do in tandem with getting our  own venue for the church to have a real impact. Right now, we have been portable which was a blessing with covid  as we were able to save money which then gave us a budget to start up lighthouse Café right within the City centre.  Rianne is also still working part time in the Christian day-care centre in our neighbourhood giving her many contacts  among our (Muslim) neighbours. She hopes to be able to reduce hours to be able to focus more on the pastoral tasks  within the church and have more time to really invest into the friendships she has built with many (Muslim) parents  from the school.  
Our two eldest kids are in a catholic school. Many catholic schools in Belgium do not carry  out the values of their faith but we have been very blessed by this school and its desire to  still talk and teach about Jesus. Elissia who is now 6, almost daily has conversations with  her classmates about faith, given she is the only non-Muslim in her class. Her teacher told  us that she told her friends that if it wasn't for Jesus they wouldn't have Allah, as God  created everything; according to her teacher they had no response. We are very thankful  that her teacher appreciates her faith and stands with her in these topics.  
So, we are seeing a huge shift in our city. God is moving. Things are changing and a place  known for its challenge and darkness is opening up. We see new people come to church  almost weekly, and most of them are new to faith, or returning to faith. People are so  much more open to talk about faith and we have already had a lady give her life to Jesus  through Alpha.  
This also comes with opposition. Callum's bike got stolen twice from our apartment's bike room, whilst being locked  and many health struggles. But we are honoured to serve the church and be a light into the City of Antwerp. We find  we are begin refined constantly here. Learning to be content in all situations and being sustained by the grace of God  to be able to do all that is required of us. Since taking on the church it has been a huge increase in workload and  ministry.  
Lots of thanks and blessings from Belgium, The Adams Family
Prayer points
• Please pray that many will see the light of Christ and give their hearts to them.
• Pray that we will be able to disciple many young man and woman so that they can carry the weight of leadership in the churches here in Belgium.
• We are looking to buy a house as a place for ministry, with much room to host many and be able to better reach into our neighbourhood Kiel, pray that we can find a house with enough space within our budget. Also, that it can link up better with the local Christian day care and also open doors with the local schools.
• Pray for more openings to talk about Christ to the parents we meet at the day care and the school gate. • Pray for our children that they will stand strong in the faith and that God will give them the words to respond to their Muslim friends.